Qualification to aim at sports trainers

●Health Fitness Programmer

About 50 hours of class exemption

100% pass rate for 2 consecutive years

●JATI Certified Training Instructor (Japan Training Leaders Association)

About 30 hours of class exemption

100% pass rate for 3 consecutive years

●JAFA certified (Japan Fitness Association)

■

Aerobic dance exercise instructor

■

Stretching Exercise Instructor

■

Resistance Exercise Instructor

100% pass rate for 2 consecutive years

Eligibility to aim for a medical therapist

●BRSO test (body relaxation worker safety and security organization)

Passing rate 100% for 4 consecutive years

●Body therapist (Japan Body Care Association)

●Reflexologist (Japan Body Care Association)
Other aim qualifications
●Aromatherapy test (Japan Aroma Environment Association)
●Oil Care Therapist (Japan Body Care Association)
●Training for first-time care staff (Ministry of Health, Labor and Welfare)
●MEK Sports Trainer (Japan Body Care Association)
●Disabled Sports Instructor Beginner (Nagasaki Prefecture Disabled Sports association)
●SAQ Level 1 Instructor (Japan SAQ Association)
●PADI Open Water Diver
●Ordinary Lifesaving Lecture 2 Certificate of Completion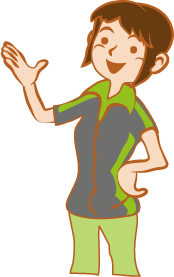 It is a job to teach based on exercise program, acquire knowledge and skills of exercise instruction to improve sports performance of the athlete and maintenance and promotion of health. Not only in the sports field but also in the field of medical care and welfare, especially for nursing care prevention.
Message from alumni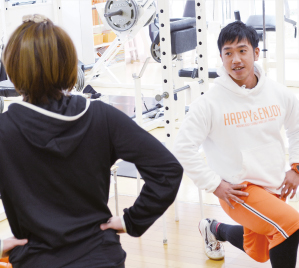 Koji Kobayashi
In this department, many practical training at the site, many experiences of muscles and flexibility and other physical differences can experience, it will be experience value. Also, you can acquire communication skills by meeting various people. The customer's smile when my goal is achieved or when I feel a change in my body is my challenge. It is best if you say "I will come again" when I return.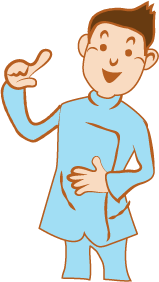 It is a job to remove "tiredness and stress" of a person's body by relaxing muscles and joints by manipulation, arranging the distortion of the body, and providing "healing". It is a field where demand is increasing more and more due to rapid aging and rising health consciousness.
Message from alumni
When I received words of gratitude from customers, I realized the feeling that I like this job and I think that I was glad I was doing it. Work is challenging to become a feeling "Let's do our best" when you receive your appointment. I would like to study the technique and to respond to customer's requests.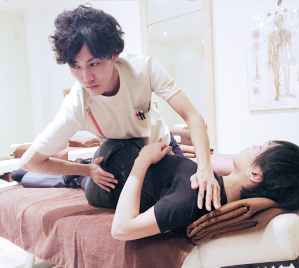 Jyunki Onoshita